What can Vipfitness do for you?
Vipfitness has a unique combination that brings you the best in fitness and nutrition. The synergistic blend of FIT BODY magazine, Lady of America, and Shpresa's White Plains facility is the ideal testing ground for the newest concepts in fitness, giving you the benefits of their combined experience.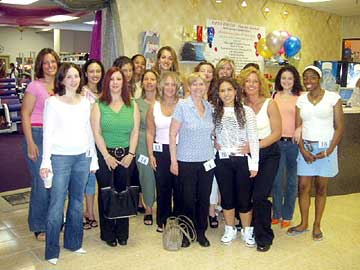 These are just a few of Shpresa's success stories: "Real Women" — Real Results. These women gathered to join Shpresa at her LADY OF AMERICA Fitness Center in White Plains, New York, for her Annual Miss Lady of America Pageant Celebration!
But don't just take our word for it, read one of our inspiring success stories:
Success Story: Ellen DeChico


Growing up, I was never really thin, but on the other hand, I was never that heavy. The extra "baby" weight was just the start of my problems. I love to cook, and while I didn't eat many bad foods (few if any fast foods and prepared dishes), I didn't eat very wisely. I soon found myself at 250 pounds, on a 5-foot-4 frame. I was approaching age 40 and I said, "That's it!"
I picked up a book on nutrition and began to find out some things I was doing wrong in my diet. That kick-started my weight loss and the pounds began to come off. I soon discovered that, besides diet, the most important thing is exercise. I began working out in the gym and—with the steady support of my husband—my dedication paid off. That was where I was beginning to plateau. Then, along came Tri-A-Genics.
I added the program and tape (twice a week) to my regular workouts and in just three weeks I lost 8-3/4 inches!
I became so excited that I also became an instructor. Each week, I still teach two Tri-A-Genics classes and work out five days. The changes just keep coming! Losing weight—even upwards of 100 pounds—is not impossible. If I can do it, anyone can do it!