What is Vipfitness?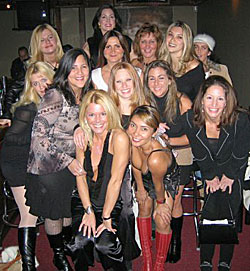 Shpresa posing with staff and friends-in-fitness.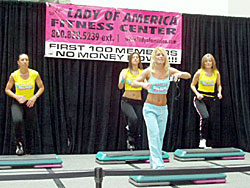 Shpresa leading a workout demonstration at a recent stop on her fitness tour of America's malls.
Vipfitness.com is the brainchild of Shpresa Perlleshi, fitness entrepreneur and personal trainer extraordinaire, and it is one of the foundations of her multifaceted approach to getting the fitness word out to all the women in search of better health.
Shpresa has found her pot of gold in a showcase Lady of America franchise facility featuring today's most innovative workout programs, a day spa, including the innovative "example" Hydro Massage Beds, body treatments, endermology treatments, nail and face treatments and major newsstand presence. This full-service Lady of America women's only club is garnering headlines by hosting the editorial offices of FIT BODY magazine and functioning as a Human Performance Lab for female fitness. "We are trying a variety of programs and get real feedback from the members. We are literally driving the fitness trends from my New York facility."
"With FIT BODY magazine headquarters inside my club, we're like a reality show for fitness," says Shpresa, Editor-in-Chief of the magazine. "I am very excited about our 1-year anniversary cover this January that features NBC's 'EXTRA' host Dana Devon. I believe that Dana Devon exemplifies a real woman that is always on the go, but still finds time to stay in shape and be a role model to all women."
Shpresa first gained national prominence as executive editor of Women's Fitness International Magazine. She knows about driving trends in fitness having created and starred in her Tri-A-Genics workout videos that have become the flagship workout for Lady of America, the world's sixth largest franchiser.
Shpresa has acted as spokesperson and poster girl for the highly successful Lady of America franchise chain. She has worked together with the club franchiser in a campaign called "VIP Fitness Teens" in which teenagers have received millions of dollars of free memberships, special programs and incentives to get them off the couch and onto the exercise floor.
A Testing Ground for the Latest Techniques
Shpresa feels her White Plains facility is ideal to test the newest concepts in fitness. "New Yorkers like to be on the cutting edge and that's what this facility is all about," she says.
Shpresa's unique Tri-A-Genics program caught the public's eye when NBC decided to put her program to the test: two viewers, two weeks, three moves and a guarantee of the loss of 2 inches. The viewers lost 15 inches and were elated with their results.
The ratings soared on NBC's "Beach Bodies" special, and several markets picked up her segments. She then hosted the NBC10 "12-Week Better Body Challenge." She'll now be using her exposure and new exercise expertise to keep Lady of America and FIT BODY magazine on the cutting-edge and in the public's eye.
FIT BODY is the first magazine that dares to put its offices inside a premier health club. New exercise protocols, programs, spa and beauty treatments will be scrutinized by Shpresa and the expert editorial advisory board. The club will become a human performance lab for all types of workouts and day spa services.
In addition to bringing readers the best of fitness and beauty techniques, the magazine will cover the business of fitness, including how to become a model, spokesperson or health and fitness entrepreneur. "There's no better way to adopt a new lifestyle than immersing yourself in a healthy/ balanced 'FIT BODY' way."
(FIT BODY is published by Carleton Publishing and distributed by Curtis Circulation Co.)